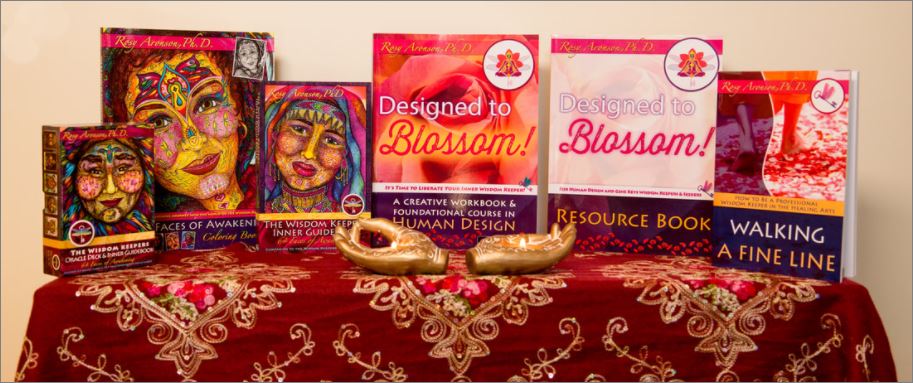 Blossoming guide and ordained spiritual counselor with a Masters in Expressive Arts Therapy, a Doctorate in Intuitive Listening & the Creative Arts, and many years experience and training in Gene Keys and Human Design. Her deepest intention is to provide empowering tools for people to awaken their Inner Wisdom Keeper and bloom into their authentic selves. An avid permission-giver, pressure-dissolver and embracer of the unknown, Rosy believes we are literally designed to blossom, and the more each of us radically trusts, honors and expresses our true nature, the more magic we can create together.
Come celebrate the Soul of the World--a miraculous multiplicity of ONE--as revealed in artist Rosy Aronson's magical Wisdom Keepers Oracle Deck. (Also available, a larger, enhanced paperback version of the mini-Inner Guidebook that comes with the deck.)
The Wisdom Keepers Oracle Deck is an empowering tool of self-acceptance and understanding, a playful way to embrace our shadows with love and uncover the gifts that only we can bring to the world.
The 64 Faces of Awakening (and the writing in the Wisdom Keepers Inner Guidebook) are deeply connected to Richard Rudd's visionary book the Gene Keys, and are incarnations of the 64 hexagrams of the I Ching, and the archetypal themes at the foundation of our universe.
These faces are embodied keepers of love and wisdom; they and their stories offer direct, heartfelt ways to work with the emotions, fears and challenges we all face. The Wisdom Keepers believe in us. They see our beauty, power and potential.
Want to know more about Rosy's work and find out how to purchase the Wisdom Keepers Oracle Deck?
Go to: The Wisom Keepers Oracle Deck
Want to learn about her online courses?
Go to: Rosy's Cources
All Oracle Decks include 64 (+ 1!) cards and an enhanced 165-page mini-Inner Guidebook, which offers detailed messages from each Wisdom Keeper, questions for contemplation, and suggestions on how to work with the cards, and integrate the guidance they bring.